Natural-Looking Dentures from an Experienced Prosthodontist
As a prosthodontist, Dr. David Casagrande has extensive experience working with patients who have previously visited a general dentist and were told that they could not receive restorative dental treatment. His combination of advanced techniques and implementation of the latest technologies allow him to provide personalized, natural-looking dentures. For added jawbone support and stability, Dr. Casagrande also offers implant-supported dentures at his office locations in Billings, MT, and Boise, ID.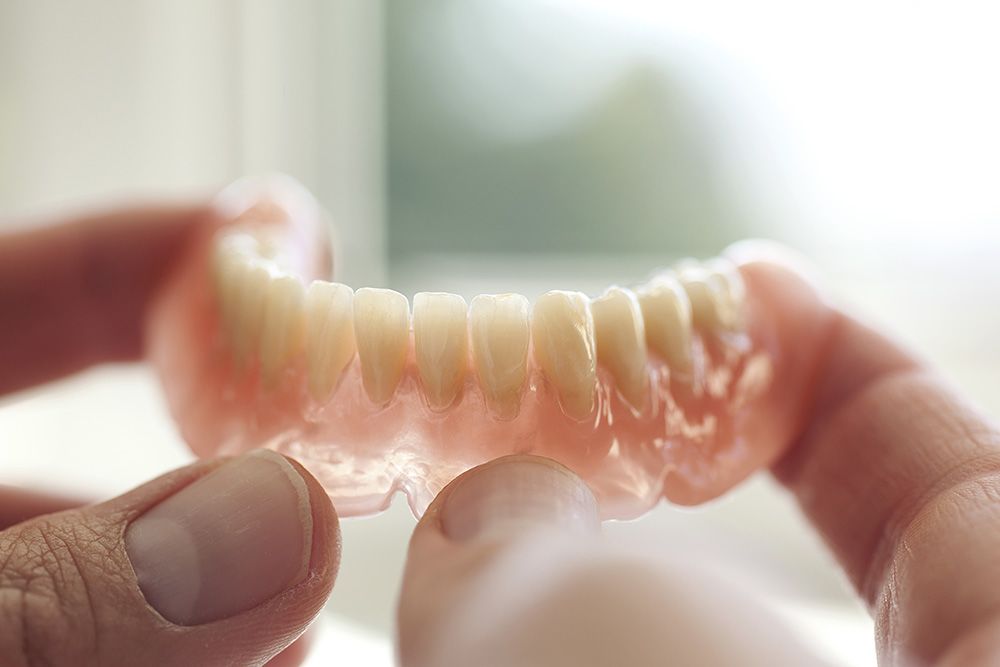 How Do Dentures Work?
In order to provide you with treatment that is suited to your specific needs, we offer partial and full dentures. Partial dentures, sometimes referred to as removable dental bridges, are appropriate for patients who have some remaining healthy teeth. Metal clasps attach to adjacent teeth, holding this type of denture in place. Full dentures are used to restore an entire dental arch.
Although traditional full dentures are held in place by natural suction and adhesive, implant-supported dentures anchor your prosthetics in place through titanium root form implants, which are placed in your jawbone. These restorations are often ideal for patients who want added stability and security. Thanks to advances in the quality of the materials used to make dentures, these restorations look more natural than ever and can help you regain confidence in your smile.
Even if you have already been told by another dentist that you are not a good candidate for dentures, we may be able to work with you and often successfully treat these types of cases
Our Fabrication Process
If you decide that dentures are the right treatment option for you, we will create impressions of your smile and begin fabricating your dentures. Dentures are made of a plastic base that closely mirrors the color and texture of your surrounding gums, and are finished with either plastic or porcelain artificial teeth. If you decide that you only need partial dentures, your restoration may include a metal framework. Dr. Casagrande uses top-of-the-line materials to ensure that you are provided with the best options for your new restorations. Throughout your treatment, we will work closely with you to ensure that your new dentures complement your facial features and fit comfortably. For the right candidate, we can plan, create, and place your new dentures within two days.
Benefits of Dentures
For patients with several missing teeth, dentures can provide functional, aesthetic, and overall health benefits. Dentures can allow you to enjoy solid foods and speak properly once again. Improving your ability to eat allows you to maintain a more balanced diet and better overall health. Dental implants also provide a connection between your dentures and your jawbone, guarding against bone loss and protecting your facial structure.
Patients who previously had missing teeth can feel more confident in their appearance after receiving their dentures. Traditional dentures can be removed at night, which makes it easy to keep them clean and healthy for years to come. With proper care and regular checkups, your dentures can look and feel healthy for five years or longer. They are also a cost-effective option for replacing multiple teeth at once.
Why Choose Our Office
Dr. Casagrande is an experienced prosthodontist; therefore, prosthetics and restorations are among his specialties. Other doctors often refer patients to our office when they are unable to handle complex cases. Even if you have already been told by another dentist that you are not a good candidate for dentures, we may be able to work with you and often successfully treat these types of cases. Dr. Casagrande has worked with many patients who traveled from all parts of the country to receive a custom denture. Our office boasts the experience, resources, and trusted laboratory support to efficiently and successfully provide you with dentures.
Schedule a Consultation
Do not be discouraged by the diagnosis of other dentists. Whether you are considering dentures for the first time or have already been told that you are not a good candidate for dentures, we can help you receive the treatment you want and deserve. Dr. Casagrande has handled very complex cases for patients who had already been told they could not restore their smile. We encourage you to call River Valley Advanced Dental & Implant Center at (800) 874-4667 or contact our office using our online form.