Improve Stability and Function with Implant-Supported Dentures
If you have experienced widespread tooth loss, implant-supported dentures provide the most stable, long-lasting solution. As compared to traditional dentures which rest atop the gums, these restorations are affixed to dental implants anchored in the jaw. As a result, implant-supported dentures will never shift out of place when you speak or eat. For your convenience, Dr. David Casagrande can place and restore implants with lifelike prosthetics at his office locations in Billings, MT, and Boise, ID.
"It stays in the mouth. It does not come out."
Types of Dentures
If you are missing most or all of your teeth, you generally have two tooth-replacement options: traditional and implant-supported dentures. Traditional restorations feature an acrylic, gum-colored base and artificial teeth. They rest on top of the gums and are held in place by suction and adhesion. The base of an upper denture will cover the entire hard palate, while a lower denture is shaped like a horseshoe to make room for your tongue.
Implant-supported restorations are attached to dental implants, which are surgically placed in the jawbone. Dental implants are essentially small screws that serve as artificial tooth roots. They fuse with surrounding tissue over a period of three to six months to become a permanent part of your anatomy. Implant posts provide a strong, stable base for dentures.
"Inexpensive, excellent, long-term restoration."
Do You Qualify for Dental Implants?
Dental implants rely on the jawbone for support. If you have sustained bone loss, which commonly occurs after tooth loss, you may need a preliminary bone graft or sinus lift to be eligible for dental implants. In addition, you should be healthy enough for surgery and free from periodontal disease.
Using an advanced computed tomography (CT) scanner, Dr. Casagrande can assess the health and structure of your jaw to determine whether you are a candidate for implant-supported restorations. If you qualify for treatment, Dr. Casagrande can perform your procedure using a surgical guide for precision. He can also provide sedation if your case is especially complex or you are simply nervous about undergoing treatment.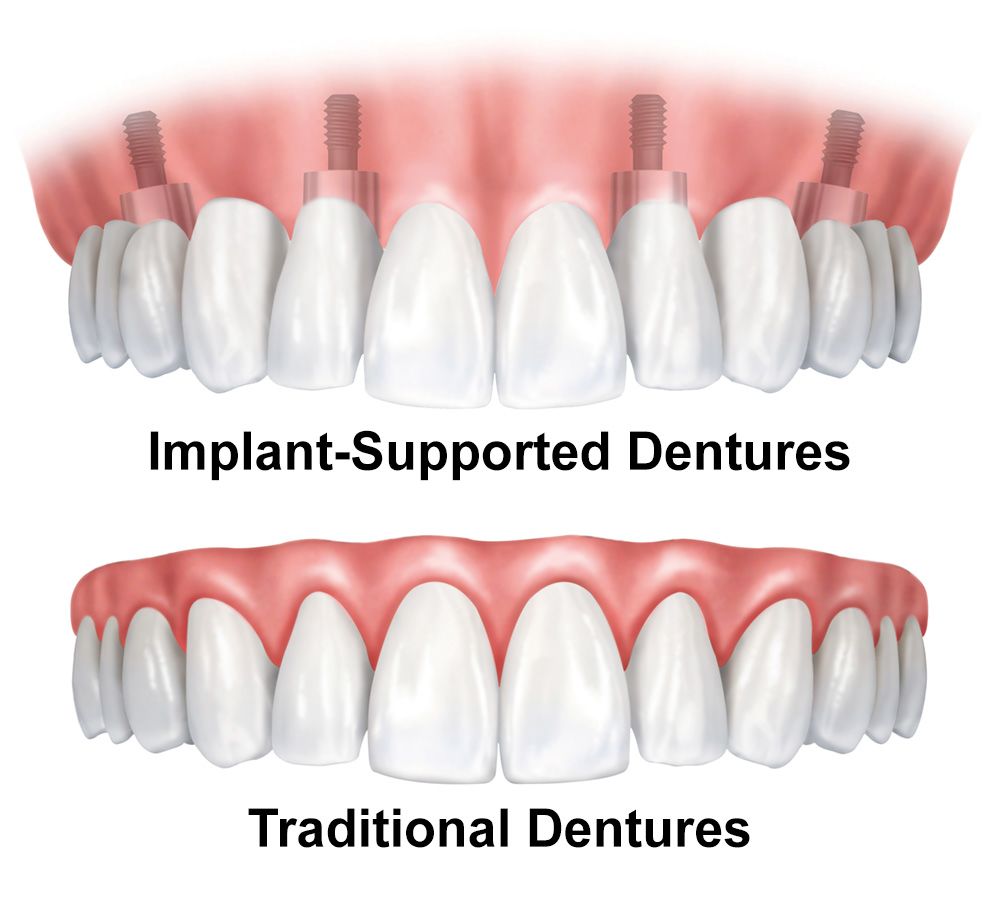 Benefits of Implant-Supported Restorations
Though traditional dentures can renew your ability to eat and speak, they do not prevent jawbone recession. Overtime, the shape of your jaw can change, affecting the fit of your dentures as well as your appearance. Traditional dentures will need to be replaced every three to eight years to accommodate these changes.
Implant-supported dentures will never shift out of place when you speak or eat.
Though an implant-supported restoration will need to be replaced in the future, dental implants are designed to last a lifetime. Implants provide unrivaled support for restorations, making it easier to eat the foods you need and love. As implant-supported dentures do not rely on the gums for support, they are more comfortable and cause less irritation than their traditional counterparts. Most importantly, implants can protect the structure of your jaw, and in doing so, keep you looking young.
Protect Your Smile
While implant-supported dentures are generally more expensive than traditional restorations and require a longer treatment timeline, they provide truly life-changing benefits. If you are seeking more stability for your denture, an implant-supported restoration is an excellent option. To learn more about your options, contact us online or call our office at (800) 874-4667 and schedule a consultation with Dr. Casagrande.